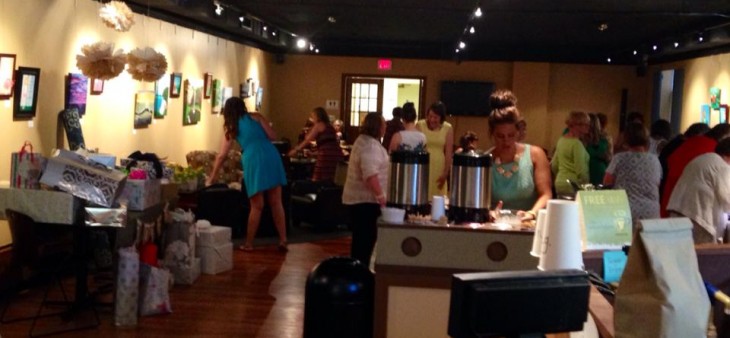 Get our coffee at your event
Do you love the coffee we serve and want to serve it at an event off site? We can do that! Let us know when, where, and how much. There is a deposit for the use of the reusable coffee containers, returned upon the return of the containers.
Only serving a handful of people? We also have insulated To Go containers. Call ahead and we'll have it ready for you to pick up.
Event & Rental Options
Do you have a party or special event coming up that you need a great space for? Look no further, because The Common Cup has all that you need.
What can this unique place offer you?
Perfect location, a great space & affordable prices
Private parking lot
Inviting atmosphere with small tables and chairs as well as cushioned chairs for your comfort
Seating for 50
Microphone and Bose tower sound system
Features a rotating display of local artwork
We offer several great packages that may include:
Drip Coffee Bar- Regular or Decaf
Hot or Iced Tea Bar

12-23 guests $2 per small tea
24 or more guests $1.90 per small tea

Latte Bar

12-23 guests $2.75 per small latte
24 or more guests $2.55 per small latte

Vegetable Tray
Fruit Tray
Dessert Tray

Small $25
Medium $40
Large $50
The full menu of drinks is also available where you either pay at the end for the drinks your guests order, or the guests pay as they order. We have seen both options used frequently.
Need additional food? We recommend Angel Food Catering, a local company offering wonderful selections for any occasion. Any outside food brought in must be from a reputable food supplier. Due to health code restrictions, no homemade food may be brought in for events.
Saturdays Only
Due to the ministry of The Common Cup as a space for students, we are only able to book private events on Saturdays. Cost is $100 for 4 hours in the space, this includes any setup and cleanup time you need.
Exceptions to this may be able to be made during the summer when students are not here. These exceptions will be made on a case by case basis only.
Contact Karen Berger at 734-327-6914 or thecommoncupcoffee@icloud.com