Welcome to The Common Cup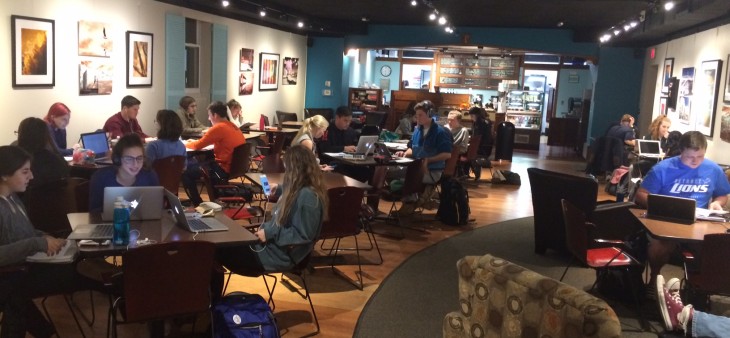 We're just a short distance from University of Michigan's East Quad, on Washtenaw Ave between South University and Hill (just up from "the Rock"). Located in the lower level of University Lutheran Chapel with a separate entrance. We have:
• Tons of study space with lots of outlet accessibility.
• Free Hi Speed WiFi.
• Great, locally roasted coffee and espresso drinks. We get our beans from Hyperion Coffee Co in Ypsilanti, who has direct-to-farmer relationships with their coffee sources.
• A wide variety of loose-leaf teas from Tea Haus.
• Baked goods and some limited lunch items.
• Features exhibit of artwork from a local artist. Artist and medium used changes monthly.
• Through the school year, we also have weekly Friday night events including performances from local and regional musicians, game nights, movie nights, and more.
A little about the staff:
Most of our baristas are students at U of M or Concordia University. They love to chat, so get to know them!
A little about me. My name is Karen Berger, I'm the Ministry Manager for The Common Cup. Holding a (fairly recent) degree in Stage Management from the University of Cincinnati's College Conservatory of Music, coffee certainly hasn't always been my focus, but switching gears from theatre to managing a coffee shop has been a really fun and interesting transition with many skills transferring easily. Don't hesitate to come chat, I'm here often.
A little about The Common Cup ministry:
Coming up on it's 10 year anniversary, The Common Cup is the University Lutheran Chapel's ministry to the students in Ann Arbor. Our goal is to provide a safe, comfortable place to study, meet, or hang out for as long as is needed. Learn more about University Lutheran Chapel here.